MAXIMALIST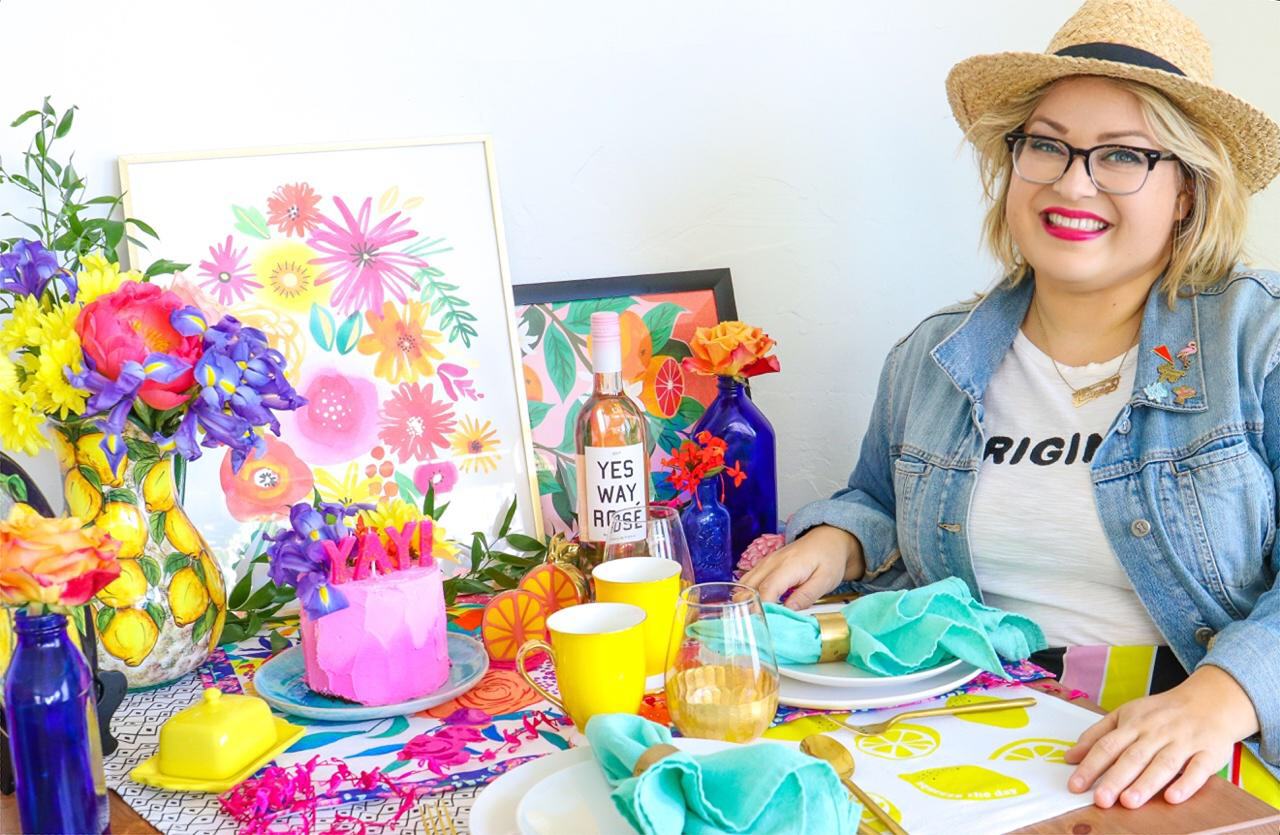 I have a confession to make... I am a MAXIMALIST (i.e. the opposite of a minimalist).The saying "less is more" has never really made sense to me. I'm a more is more kinda girl. The more color, pattern and fun the better. Don't get my wrong, I will sing the praises of white space and giving your eyes a break, but if left to my own devices I'll always add just a little bit more. My Instagram feed is full of minimalist accounts with a single leaf framed against a bright, bare wall. I do love the aesthetic and have, honestly struggled with accepting my own propensity for all.the.things.
But, what can I say, I love it and it's me. I adore layered patterns and textures like those I styled in this mini tablescape in celebration of all things bright and floral. I was inspired by this line of "Paint + Petals" dish towels at Anthropologie and decided to have fun with it. I layered the towel with a few other patterned towels and added some of my own real life florals to complete the look. The b&w geometric towel from IKEA gave a bit of a break from the floral patterns and served as a border to all of the vibrant colors. The Lemon "Squeeze the Day" towel from Target added a bit of quirk but also made this design totally on trend.
Have you noticed how much lemons are popping up all over the place these days? When life gives you lemons... DECORATE. I was thrilled to break out my lemon ceramic pitcher that I picked up years ago when traveling in El Salvador. Layering patterns and textures is kind of like that. It allows you to layer different experiences and points of view until you have your own unique story to tell.
The layering of dish towels as a table design backdrop is also further proof that you don't have to have the perfect table runner or table cloth to have fun with your table decor. I think limitations have a way of helping us think more creatively and outside of the box. Some of my favorite designs have been as a result of an imaginative use of every day products (wrapping paper, burlap, kraft paper...yes please!)
So when it's all said and done, I'm here to tell you that when in doubt go for it. Could I have paired back the styling of this table? Absolutely. Did I want to? Absolutely not. In my humble opinion, there are no hard and fast rules when it comes to decorating. Styling your table, your home or your wardrobe is about expressing yourself and sometimes it just comes out in ALL CAPS!
Don't be afraid to express yourself. Print and color mixing is a fantastic and fun way to do so. However, if you're the one who loves the solitary leaf then go for it with abandon. Just be forewarned that I might be trailing around behind you with about 10 more leaves and some flowers and patterns and probably about 20 other things... I can't help it.